Specifically designed to fit all popular UTV's, for a simple, robust drop feeder you can rely on.
350 litre capacity spaced drop sheep/cattle feeder
Electric operation and digital counter
Fully galvanised, robust construction
Unique countdown function
Offset drop to avoid tow bar
Fits all popular UTVs
Drop size is variable from 0.5kg to 2kg (approx), and drop spacing is controlled by the forward speed of the UTV or 4×4. Based on the same running gear as the TF350 Trailed feeder, the drive system and electronics are tried and tested. Furthermore, the control module is interchangeable between mounted and trailed models!
PRECISE DIGITAL COUNTER
The digital counter ensure you know exactly how much has been deposited, and allows you to focus on checking stock condition.
Operable as either a count-up timer, from 0 drops upwards, or as a countdown counter, whereby the desired number of drops is set, and the machine will deposit exactly that amount of feed, simply and reliably each and every time. Simple design, quality construction, and galvanised finish for a long lasting, reliable machine.
ELECTRONIC DRIVE
The electronic drive system on the MF350 & TF350 stock feeder has few moving parts and only rotates when in operation, reducing wear and tear, and allowing towing over longer distances. All electronic components are IP67 rated, for use in the toughest conditions.
Operation is simple even when wearing thick winter gloves, and the large, brightly backlit display is easy to read even in the worst conditions. The countdown function is ideal for reliably dropping exactly the right amount of feed and freeing the operator to focus solely on checking stock condition. The control unit when off consumes minimal power, so will not flatten batteries if hard-wired onto the towing vehicle.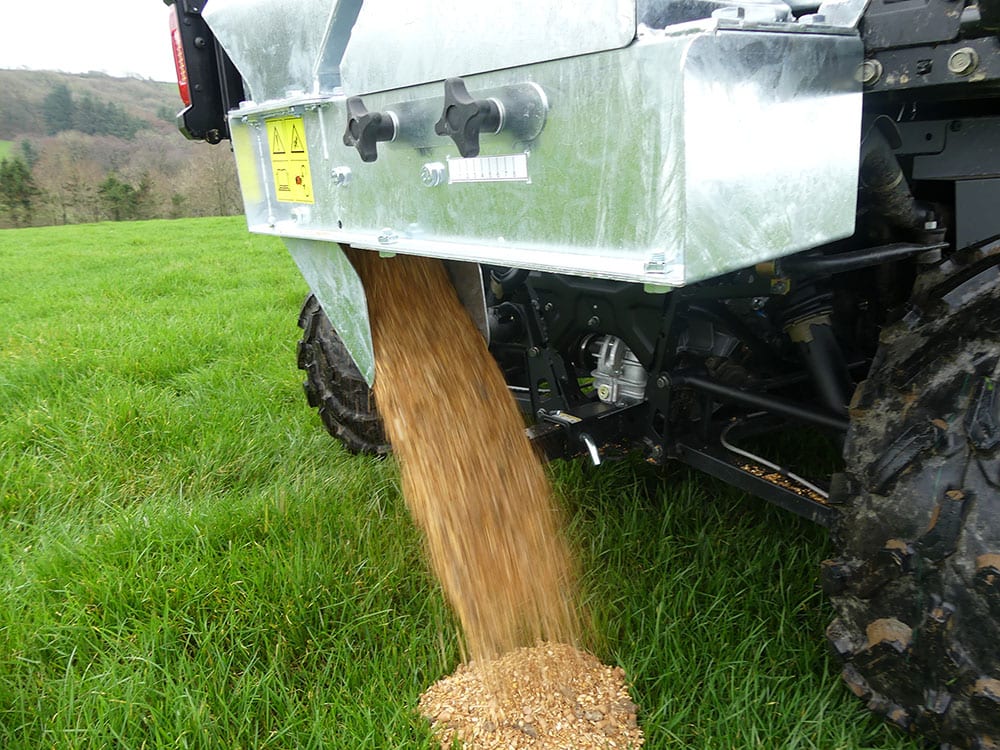 EXCEPTIONALLY STRONG & LIGHTWEIGHT
The MF350 Mounted sheep snacker by Chapman Machinery is designed to be exceptionally strong, yet lightweight enough for use in wet, wintery conditions. The fully galvanised hopper is made from robust 2mm folded steel, for strength yet without being excessively heavy – the entire MF350 weighs around 90kg when empty, allowing you the full 350 litre max feed capacity (depending on UTV load limits)!
The drop deflector allows use with a trailer, depositing the feed on the clean ground between the wheels of the towing vehicle and trailer (if used with a trailer).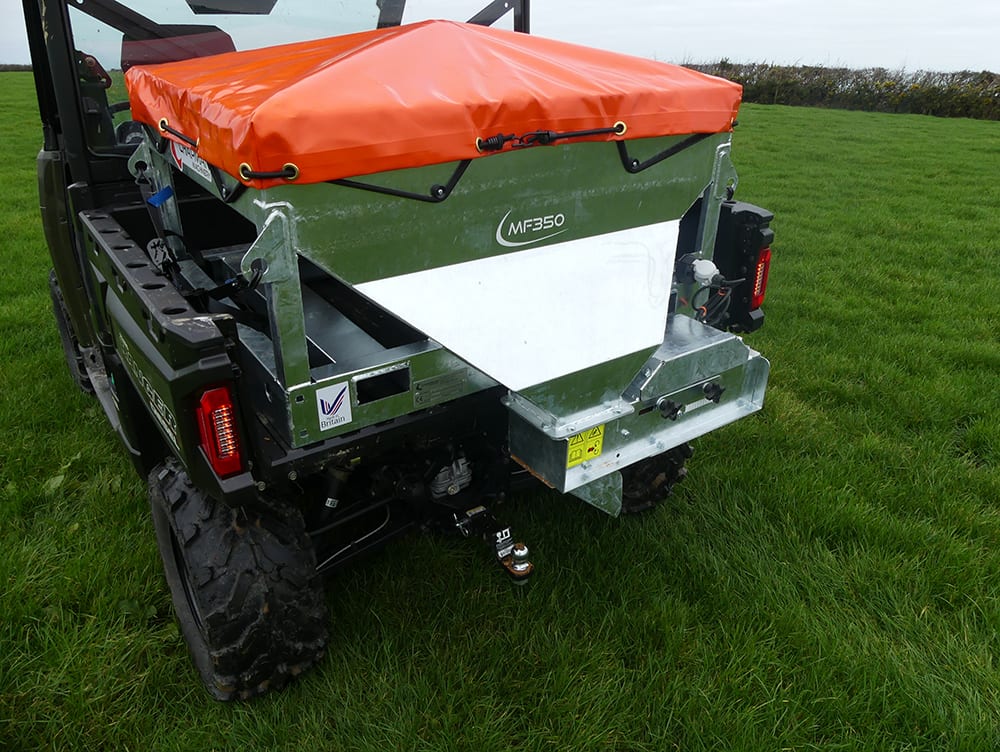 Chapman Machinery UTV Mounted Livestock Feeder MF350