Chapmans Machinery- Livestock Feeder- Trailed Stock Feeder-TF350
"SAVES YOU TIME AND HASSLE"
The TF350 Trailed Stock Feeder (Sheep Snacker) features fully galvanised all-steel construction & electronic operation with high-visibility digital counter ensure the right amount of feed is dispensed, exactly where you want it.
Chapmans Machinery- Livestock Feeder- Trailed Stock Feeder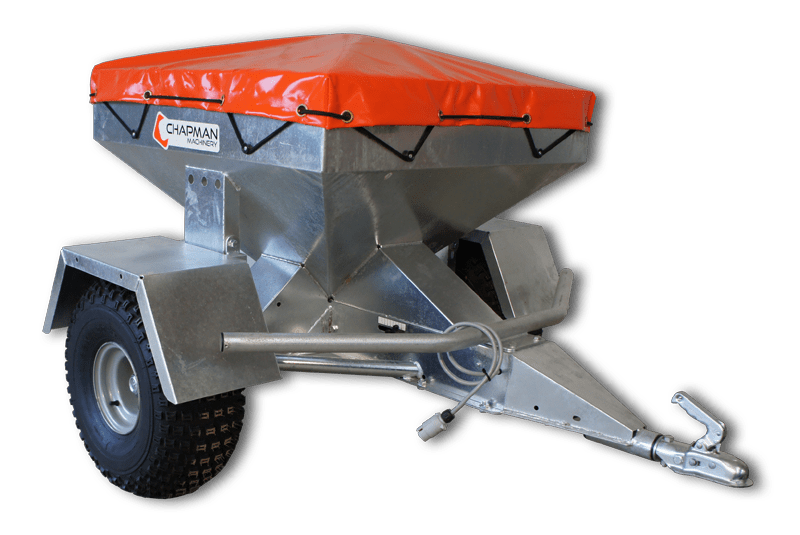 Simple design, quality construction, and galvanised finish for a long-lasting, reliable machine.
350/600 litre capacity spaced drop sheep/cattle feeder
Electric operation and digital counter
Fully galvanised, robust construction
Industry-leading ground clearance
Choice of wheel/tyre options
Unique countdown function
LEAVE FEEDING BY BAGS IN THE PAST
Don't mess around with bagged feed and troughs, the TF350 Livestock Feeder / Sheep Snacker allows you to drop the right amount of feed in the right place each time.
Drop size is variable from 0.5kg to 2kg (approx), and drop spacing is controlled by the forward speed of the ATV, UTV or Quad with a 350 litre hopper capacity as standard, and optional extension sides taking capacity to 600 litres.
FOCUS ON YOUR STOCK
The digital counter ensures you know exactly how much has been deposited and allows you to focus on checking stock condition.
Operable as either a count-up timer, from 0 drops upwards, or as a countdown counter, whereby the desired number of drops is set, and the machine will deposit exactly that amount of feed, simply and reliably each and every time.
ELECTRONIC DRIVE
The electronic drive system on the TF350 stock feeder has few moving parts and only rotates when in operation, reducing wear and tear, and allowing towing over longer distances. All electronic components are IP67 rated, for use in the toughest conditions.
Simple operation is simple along with a large, brightly back-lit display which is easy to read even in the worst conditions. The countdown function is ideal for reliably dropping exactly the right amount of feed and freeing the operator to focus solely on checking stock condition.
INDUSTRY LEADING GROUND CLEARANCE
The TF350 trailed sheep snacker by Chapman Machinery is designed to be exceptionally strong, yet lightweight enough for use in wet, wintry conditions. Steel, fully galvanised chassis and hopper are extremely heavy duty, yet light to tow. Steel will not fade, become brittle and crack as plastic hoppers can!
Conventional drum-operated machines suffer from low ground clearance – the TF350 has a minimum 300mm ground clearance, and when combined with the steel 'belly pan' means the TF350 can go anywhere the towing vehicle can go.
For more information on all of the ranges of machinery which AMIA exclusively distribute in the UK and Ireland please go to www.agrimarketia.com.  Please email the AMIA Headoffice at office@agrimarketia.com.
For further information, please contact our helpful team by clicking here.
You can also follow us on our Facebook page  Agri Market Insight & Access Ltd – Home | FacebookCha
Customers who viewed this item also viewed