The BT500 Bale Transporter is a fantastic tool for moving round bales of hay or silage where a tractor is not available or if the ground is too wet for such a heavy machine.
Robust galvanised steel chassis
Electric loading/unloading winch as standard
Twin pivoting axles for smooth travelling
Huge 900kg capacity
2 year warranty
GO WHERE OTHERS CANNOT
Designed for use behind an ATV, UTV or 4×4 (off-road only) the low ground pressure and relatively lightweight of the BT500 allows it to travel easily over rough or wet ground for feeding out-wintered stock.
The BT500 can also be utilised on smallholdings and in equestrian yards where a tractor is not available, allowing round bales to be used in place of small square bales at a considerable cost saving.
INNOVATIVE DESIGN
The BT500 features an electric winch for loading and unloading the bale as standard, along with remote control. This allows even the heaviest bales to be loaded with ease and makes hitching and un-hitching the bale transporter quick and easy with just one small electrical plug connection to be made.
The innovative design of the BT500 round bale transporter means that the cradle arms automatically grip the bale as it is reversed up to it for loading, with only 1 small ratchet strap to be attached before the bale can be loaded securely and safely using the remote winch control.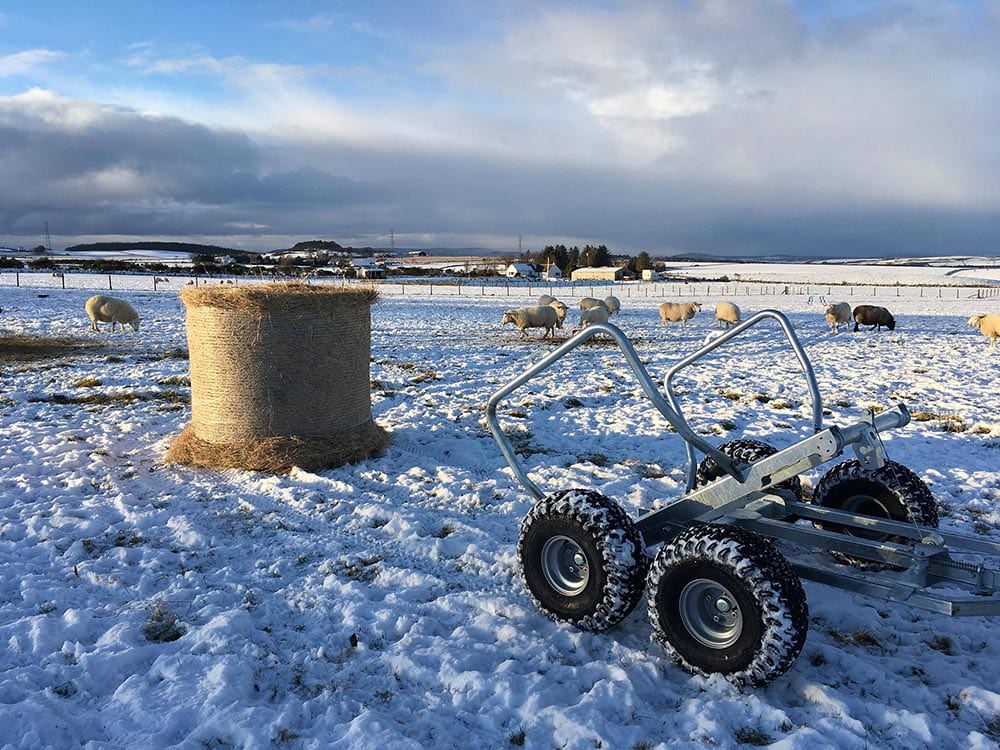 HEAVY DUTY BUILD YOU CAN RELY ON
The BT500 is fitted with a heavy duty, pivoting Twin Axle with large 22x11x8″ flotation tyres as standard.
The Twin Axle setup allows the BT500 to cope with a maximum 900kg bale weight whilst also reducing ground pressure, enabling smoother towing over rough ground allowing silage and hay bales to be moved with ease.