Martin Lishman Micro-Spray Range SP/MC/120/P/25
Martin Lishman Micro-Spray Range SP/MC/120/P/25
Combining control and power with responsive easy handling, the Martin Lishman Micro-Spray pedestrian sprayer is designed for all types of sports grounds, golf courses and landscaping work.
The Micro-Spray now comes with an upgraded specification, making it more versatile in a wider range of situations. The Micro-Spray has a narrow footprint so it can fit through most gateways and passageways to tackle hard-to-reach spraying areas.
Teamed with smooth tyres and a single front steering wheel, this ensures a low ground pressure footprint to keep tyre marks on turf as minimal as possible, while still retaining the manoeuvrability and stability needed to tackle rough terrain.
Fully electric self propelled sprayer
UV-stabilised 120 litre polyurethane tank
Durable powder coated 3-wheel chassis fitted with turf tyres
2.5 to 3.5 metre 3-section folding boom options
Boom break-backs and height adjustment
3-section valve block with pressure regulation
Agitation and isolator for each boom section
Stainless steel spray lines
Single turret nozzle bodies
Air Bubble Jet reduced drift nozzles
Dual 12v batteries giving up to 4 hours continuous use, battery charger included
A newly designed ergonomic steering handle provides a simple trigger throttle system and spray on/off buttons for precise fingertip control of spraying. The addition of an emergency stop wrist lanyard improves safety should the operator become separated from the sprayer. Parts of the control system are designed to meet the latest machinery directives, making them suitable for use by local authorities and in public places.
The easy to use control box gives the operator more control over the sprayer with changeable motor direction to either walk behind or in front of the sprayer, 12 motor speeds, bout marker selection and a battery level indicator. Spray application rates, operating speed and the pump pressure can be accurately and quickly controlled by the operator.
Accurate control and spraying power in a lightweight package to prevent compaction and turf damage were at the forefront of the Micro-Spray's design. At the heart of the Micro-Spray is a seriously strong powder coated steel chassis, driven by an advanced rear wheel drive system and speed controller. 2 large deep cycle batteries mounted on the floor of the chassis help maintain a low centre of gravity and weight balance to keep equal traction on all 3 wheels. The UV-safe 120 litre tank feeds the 23 litre/min pump which can accommodate 2.5 to 3.5m boom widths and a wide range of application rates. Easy to reach controls enable the operator to quickly adjust sprayer settings in an effort to increase productivity. When it comes to sprayer design, it does not get much better than the Micro-Spray.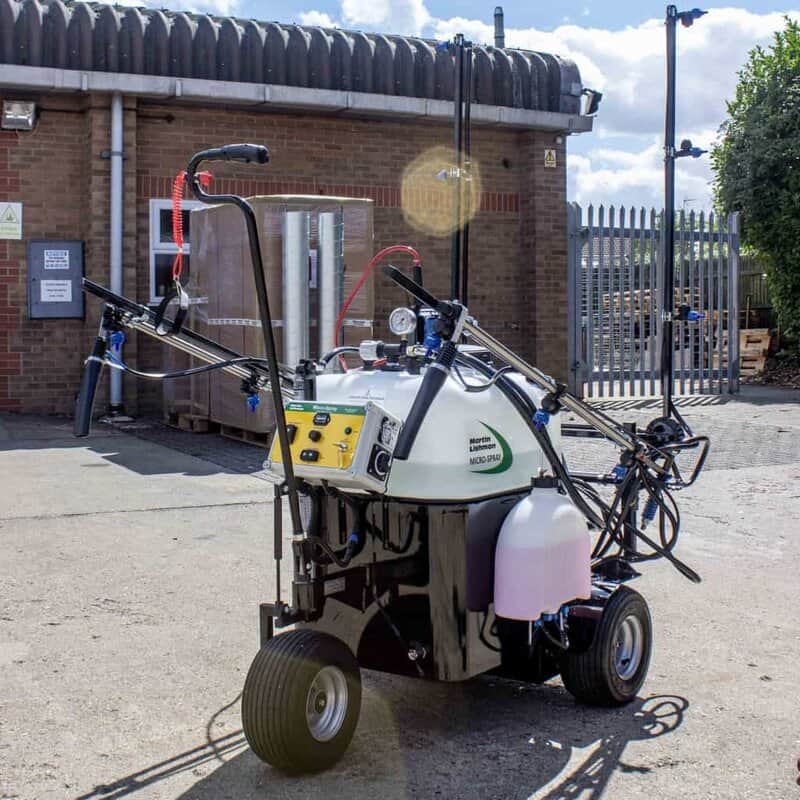 With the challenges facing today's sprayer operators, this can make finding the right product for the job rather difficult. Thats why at Martin Lishman we offer an extensive list of factory fitted options for the Micro-Spray. We can even customise them for your specific purpose. For example, the Micro-Spray shown in this image has been modified to have two booms. A horizontal boom for normal use, and vertical booms for use on vineyards and trees.
Simple design makes performing maintenance on the Micro-Spray range quick and easy, and minimises downtime. Martin Lishman stock an extensive supply of spares and can even repair and service your sprayer at our NSTS certified test centre.
Powered by two 12 volt deep cycle batteries, the Micro-Spray heavy-duty controlled drive unit makes it suitable for all terrains and all physiques. Operators can walk behind or in front at their own speed and adjust the pump pressure to suit. Get up to 4 hours continuous usage between charges, making sure you get the job done with minimal downtime*. Speed is maintained irrespective of terrain or tank weight and the motor brakes automatically if the power is cut or the trigger switch in the integrated control handle is released.
Model

Tank Size

Boom

Pump

Power

Valve Block

Hand Lance

Weight (full)

SP/MC/120/P/25

120 L

2.5m
3 section folding

23 L/min

24v

Manual 3 section

Optional extra

370kg
For more information on all of the ranges of machinery which AMIA exclusively distribute in the UK and Ireland please go to www.agrimarketia.com.  Please email the AMIA Headoffice at office@agrimarketia.com.
Customers who viewed this item also viewed